Our Corporate Vision
~Nohara's Way
MISSION
We make every effort to create a sustainable future for architectural culture, and to contribute to and achieve a healthy environment and aprosperous society.
VISION
~Our vision for the future~
We are building the future of the Nohara Group, powered by our three pillars of "Innovation" , "Digitalization"and "Globalization".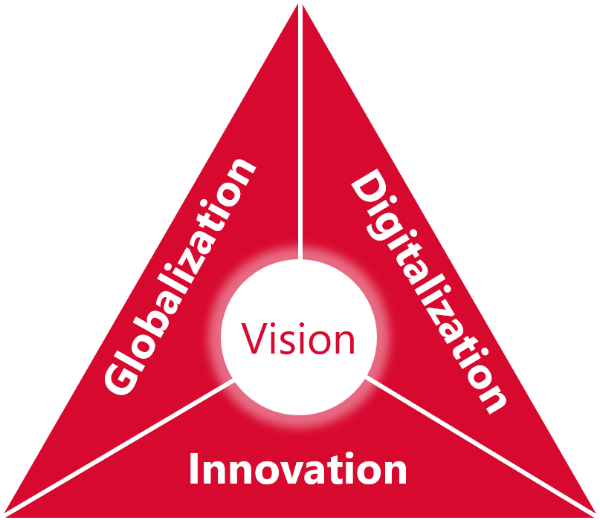 Globalization
We do not see borders between Japan and the rest of the world, instead we pro-actively seek to develop overseas expansion of our businesses.
Digitalization
We are always incorporating new technological innovations, such as AI and ICT, leading the way to digitizing our entire scope of business.
Innovation
We are not tied down by the past,instead, we search for new paths, new perspectives, and new methods to further innovate our business.
VALUE
~the values which we will seek and treasure~
Be cheerful! Have fun! Be aggressive!
Each of our employees makes their own decisions, opening up new paths for themselves, which is why change is a cheerful and enjoyable thing.
We do not run away from challenges, we do not blame others, and we always remain aggressive.
By always maintaining this "cheerful, fun and aggressive stance," we can accomplish our fundamental principles (our mission).
Always be open-minded!
We will always keep our eyes open, and make fair and impartial judgments.
We will always be open-minded, generating new values through collaborative efforts with other companies, and strengthening our organization by cultivating management philosophies enriched and enhanced with diversity.
And most importantly, our motto is to be true to ourselves, to our work, and to our customers.
We will always apply ourselves with sincere and true intent in everything we do.
Who's going to do it! I will!
We truly value our relationships between the company and our employees.
The Nohara Group trusts its workers, and instills them with the confidence that each and every person is important in building the foundation for their work and for the company.
Each of our employees has ownership and responsibility for their work, fulfilling their duties, and getting results. Management by everyone.
That's the Nohara way.
100 x Speed!
In this modern age, speed is of the essence.
In business, speediness has become dramatically more important.
If we feel that a job or project does not seem to place importance on speed, we may determine that it has already lost value, and will not be afraid to turn it down if necessary.
The entire company cannot speed up if only one person does so.
We all need to speed up together, to achieve 100x acceleration.
Creativity is everything!
The most important driving force for business now is creativity.
Creative ideas are born from a process of thinking and selecting the best inspirations.
The passion and strength to solve a problem is what leads to creativity. We have gathered professionals from many different fields and disciplines.
When these professionals bring together their ideas, they give birth to new creative solutions, and forge a path towards a new and creative future.
And through it all, the most important thing is to view things from the perspective of the customer.
We conduct ourselves with the idea of serving not only our immediate customer, but with the foresight of serving potential future customers as well.